Your Story in the Details Vol. 13

Portraits by
Ginger Williams Cook
Capturing a moment in time doesn't have to be left solely to the art of photography. It can be captured by a stroke of a brush; a soft watercolor palette or a bright and colorful gouache piece. A painting of a favorite moment or a portrait of your forever friend can be a show-stopping addition to your home that will be passed down to many generations to come. 
A painting can capture the movement, the essence, the warmth of its subject because of the passion that is put behind its making; each stroke being done by the hands of an artist. Strokes that could never be replicated exactly the same again, making it truly a unique treasure to have in your possession.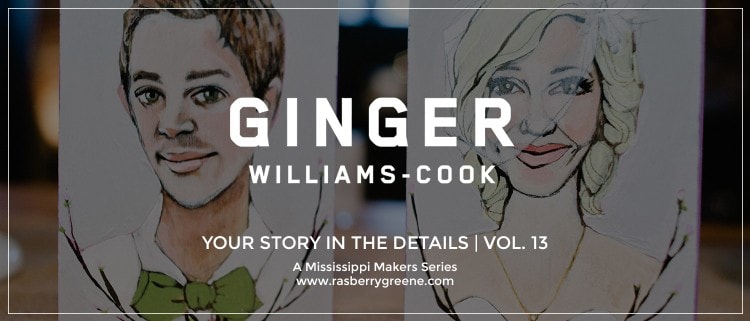 Ginger Williams-Cook of Jackson, MS has made waves in the art community with her impeccable portrait paintings. Whether your heart lies in the face of your significant other, a still from your wedding night, or your furry friend, Ginger can mark a moment in your life with her paintbrush that will make the moment a timeless prize. We can't wait for you to fall in love with her paintings, just as we have.
What was the inspiration behind your painted portraits?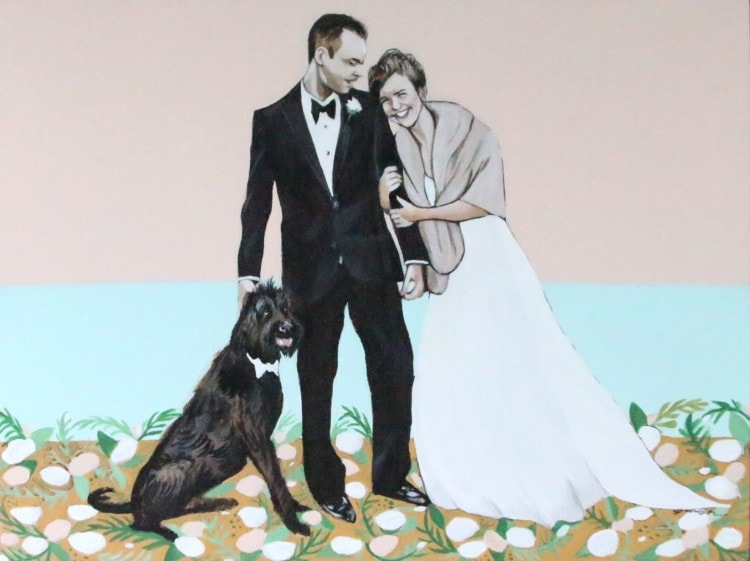 My favorite thing about custom work is that it is one of a kind and special from the very beginning. Many of the commissioned works that I do is to be kept a secret until it's delivered. The excitement that I have about that only grows with each new job, much like being a kid at Christmas. When people see one of my paintings of their loved one, pet, or of their special day, it brings tears to their eyes because it was so thoughtful of the person to ask me to create it and I pour my heart into each painting. My inspiration is the regular reminder of the deep love that we all have for our spouses, children, fur-babies, and life moments. It's an honor that people want me to capture or translate that love into a work of art.
How did you get into painting portraits?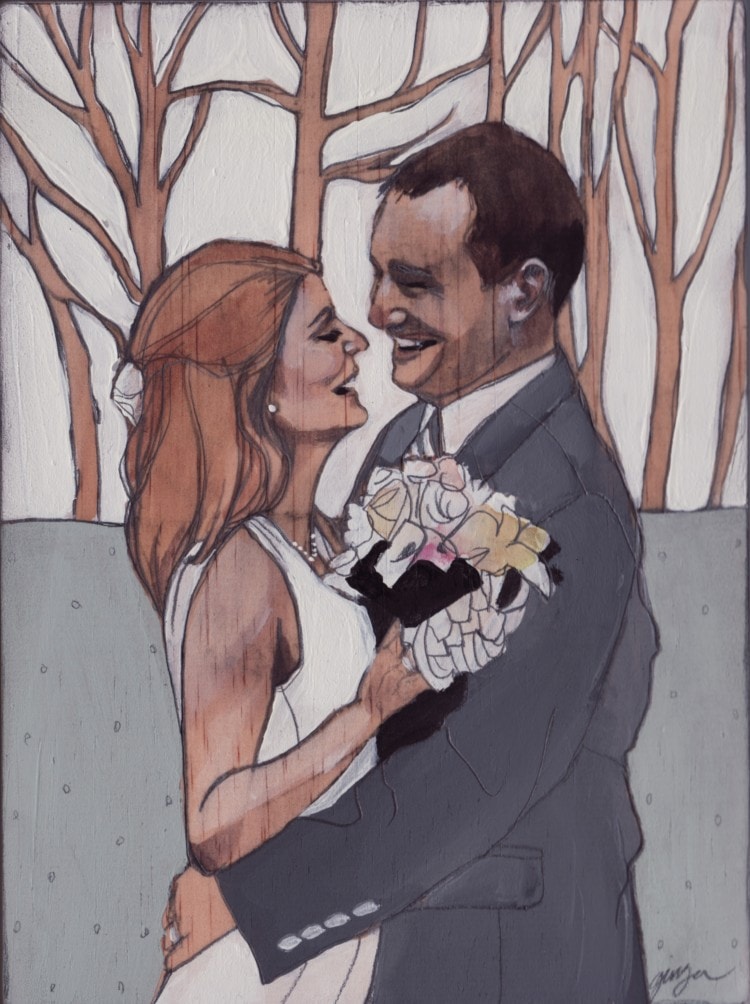 I have been captivated by portraiture since I was a child. The human form and learning how to draw the face is a lifelong pursuit of mine. I continue to learn as I go. My "eureka!" moment came when I delivered a portrait and the client began to cry and told me that I really captured their loved one. That's when I realized that how well I could draw a person was only part of the process. The other half was about using movement in hope to capture the essence of that person. A warmth, a spark, a marker of time and beauty is portraiture. I love to engage in that process and be a part of people's lives.
What is your favorite way you've seen your portraits used for weddings?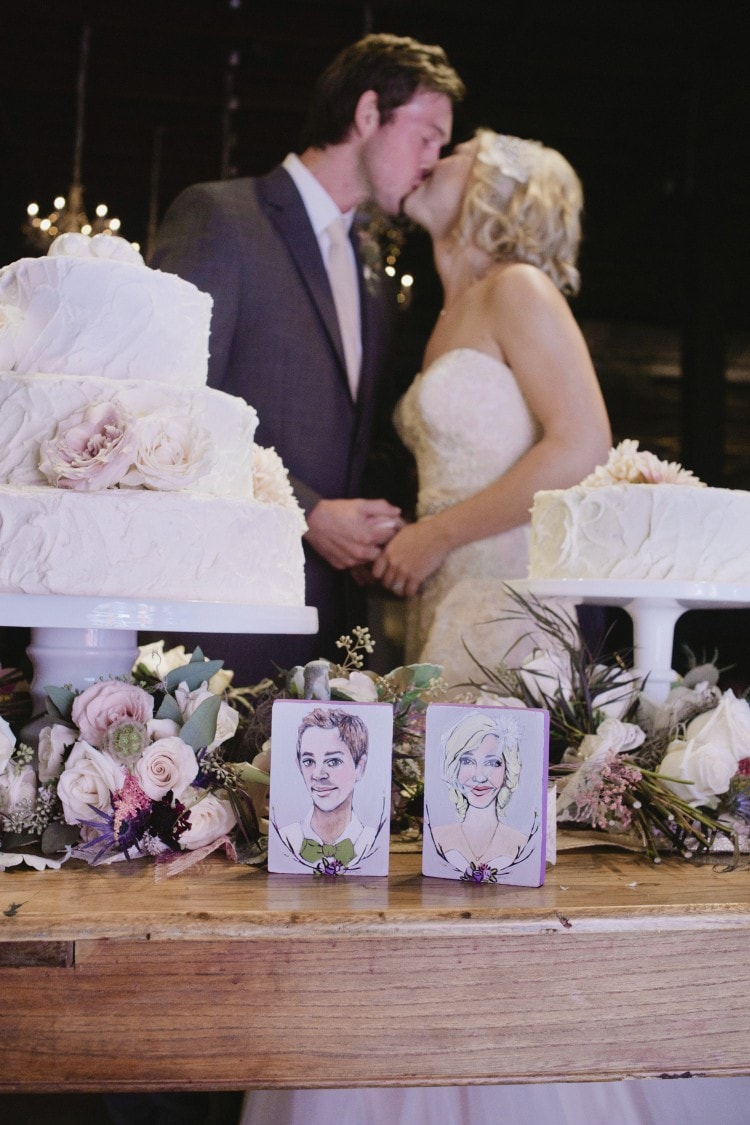 I love seeing portraits of the bride and groom by the wedding cake and a cute painting near the guestbook. Many of these custom paintings are gifts to the bride and groom and are a great way to begin a couple's art collection. I'm currently working on a custom illustration on a couple's wedding invitation as a gift for their upcoming wedding. I am constantly moved by the creativity and special requests that revolve around weddings and how to use a gift to show love.
How do you think your portraits could be used to tell a unique wedding story?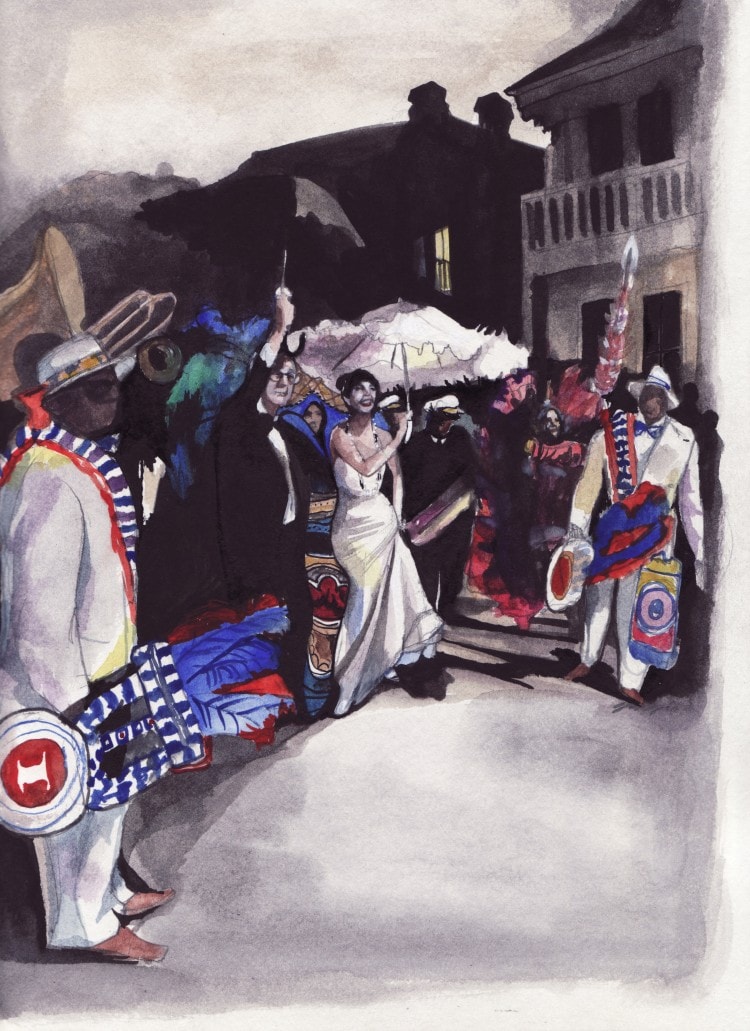 Weddings are magical. That's why custom artwork plays a huge part in such an important life event. I currently don't do live-event paintings, but l love to paint from a couple's favorite photo and creating fun caricatures of the bride and groom.
Which style of portrait is secretly your favorite and why (canvas paintings, nesting dolls, etc.)?
Hands down my favorite thing to do is to paint pets in costume. We form deep attachments to our pets, give them silly voices, and imagine what their human characteristics might me. One of my favorites is of Kristen Ley of Thimblepress' dog, Willow. Willow even has her own instagram account and has such a fun, bubbly spirit.
Did you use painted portraits in your own wedding? If so, how?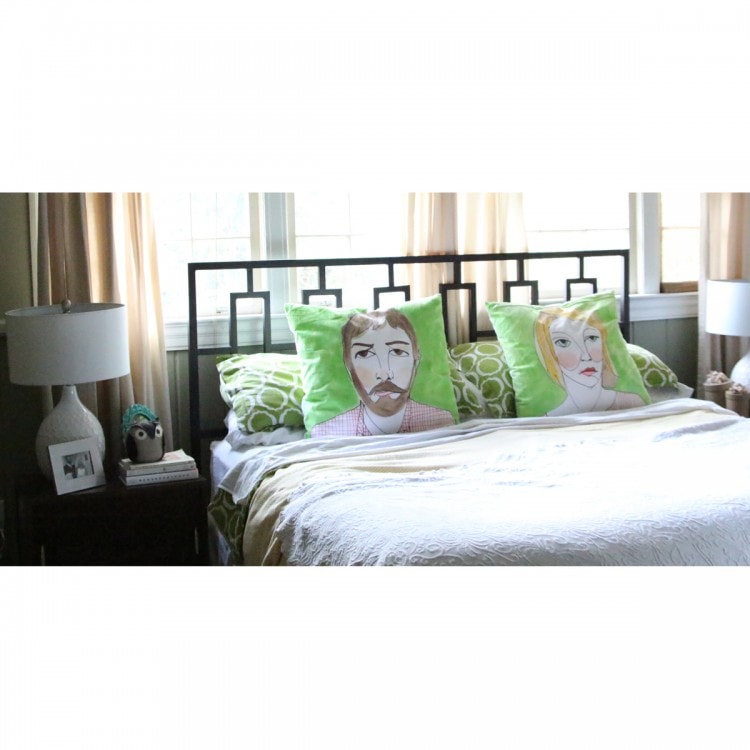 I did a painting of Justin and myself that we had on display near the wedding cakes. We were married in 2009, so I think if we could do it all again, there would be much more art involved!
How do you feel you told yours and your husbands story through your wedding?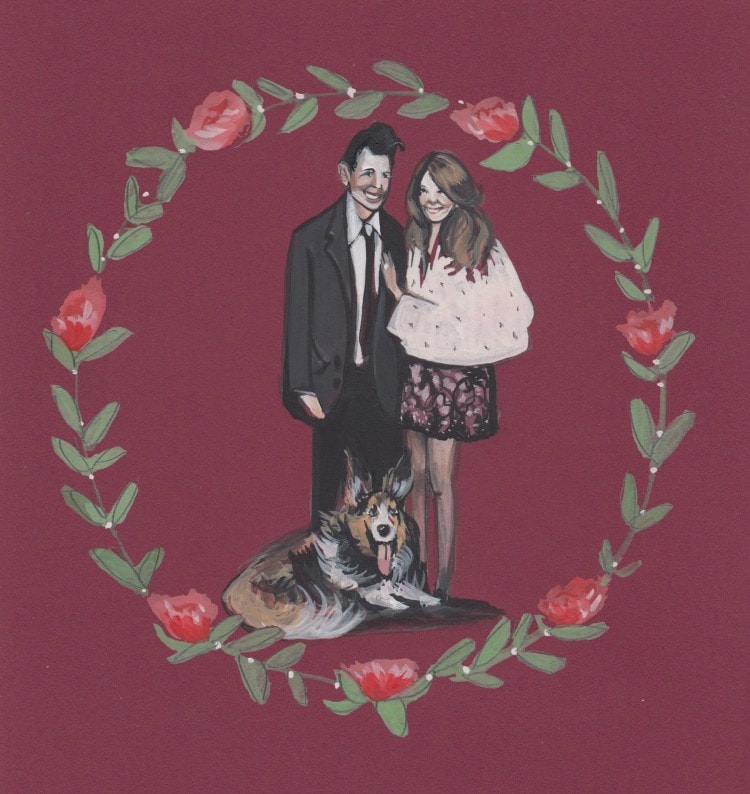 Justin and I were married at St. James' Episcopal Church in Fondren and had our reception one street over in his parents' backyard under a giant tent with romantic lanterns and bulb lights. Our wedding took place before Pinterest (gasp, right?) and I think we had meaningful touches here and there, but it was really all about the amazing assembly of close family and friends that celebrated with us. I remember every detail and would not change a thing. We said our vows in my husband's childhood church, where my children were/will be baptized, and where we currently worship with a great church family. Our story is really about the union of families and the beginning of our new life together.
If there was one piece of advice you could tell a bride, what would it be?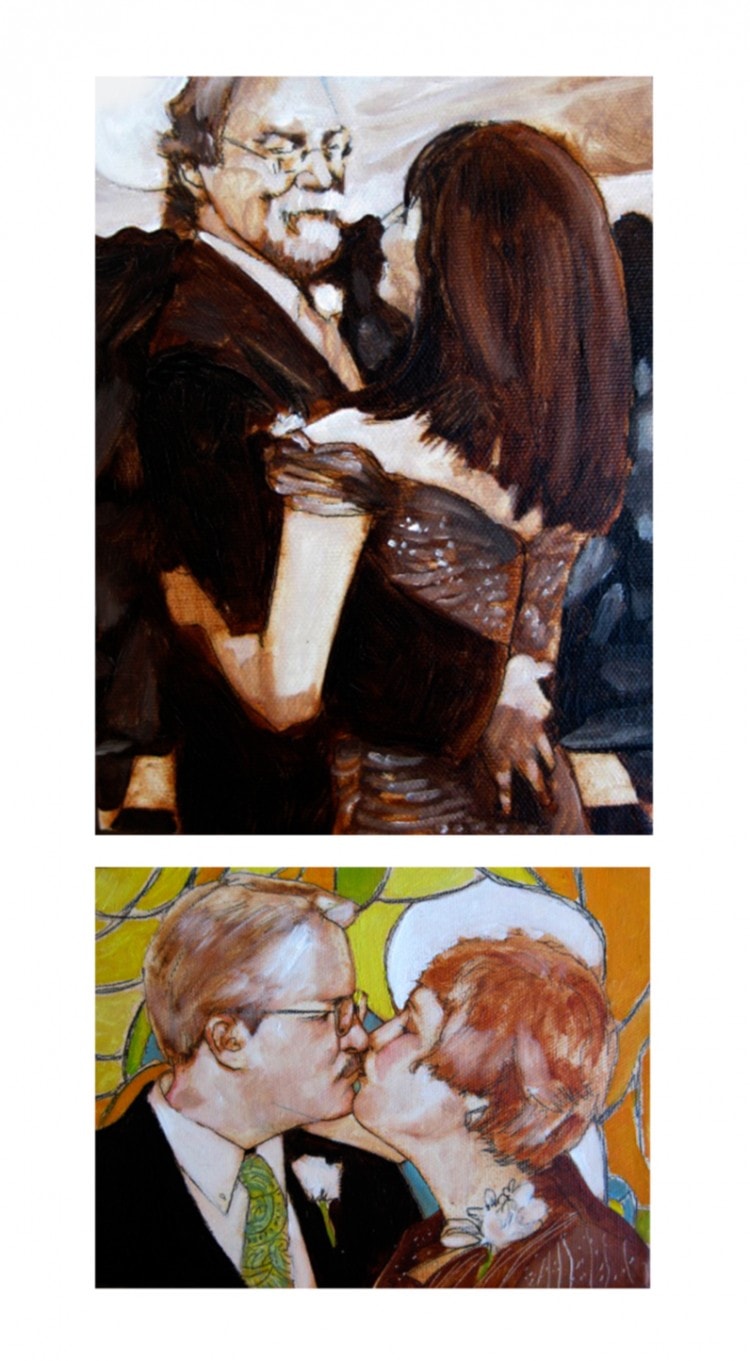 Everyone gathered around you before the wedding is there to help and to ensure your day will be perfect. All of the vendors hired are good – the best – at what they do, trust them. Spend the morning before the wedding having manicures with the bridal party and enjoy the experience. Focus on the vows and the union, everything other than that is a big party, so have fun!
If you could have written your future bride-self a note to read on your wedding day, what would it have said?
If I could write a letter to my then-self about the many blessings in store for me, I am certain that I would break out into an ugly cry. Assembling families for a wedding can be a bittersweet time for those that have experienced great loss. In 2009, it had been 7 years since my mother passed away and it was an emotional experience to have another milestone without her physical presence. In remembrance, my brother walked down the aisle with a red rose and placed it on the pew. When I walked by, it was a reminder that she was with me in spirit and her love shines through me. Joining hands with Justin that day in front of our loving family and friends was the first step on a path of great abundance and healing. That day, I gained two wonderful parents-in-law and my parents love Justin as a son, too. In 2012, we welcomed our darling Eloise and in 2014 our darling Oliver. Eloise has recently taken great interest in all of the details of our wedding and told me the other day that she's a little upset that she did not get to come to our wedding.
What could others do with your product?
A work of art will symbolize a perfect moment in time; a child's round face, the loving gaze of a bride and groom, a beloved pet.
What are some of your favorite handmade wedding vendors in Mississippi?
William Wallace Salon: Eddie and Justin at William Wallace Salon create magic. They are the best.
That Special Touch: Our wedding cakes were divine and we always order birthday cakes from them, too.
Christina Foto: Christina Cannon Boteler is a dear friend and talented photographer that took my bridal portraits, shot our wedding, and took newborn photos of my daughter. I am always in awe of her work and she always captures such tenderness. She was so sweet and attentive to so many details about my special day and continues to capture moments of my family.
Thimblepress: Kristen and her awesome team at Thimblepress have so many fun products to make any special day sparkle. The Push-Pop Confetti is fun and it photographs so well. She is such an inspiration and pours so much love and fun to everything she does!
Beth Morgan Photography: Beth is so talented and can really capture the magic in the moment. Beth has an ability to capture light like no other and she is a film gal, and so good at what she does.
Southern Sprout: Bonnie creates the most beautiful chalkboard signs and calligraphy
Tulip Design Studio: I am in awe of Lesley Frascogna's floral designs. Each arrangement is a work of art and she has impeccable style.
Molly Gee's hairpieces are so lovely.
I could probably go on forever! I love Ashleigh Coleman's work and Jessie Partridge of Maidenhair Floral Design and Kendall Poole Event Planning
You can find Ginger Williams Cook on: