Your Story in the Details Vol. 4

Thimblepress
Glitter, sparkle, metalic-shine; goldendoodles, dance parties… It's "cue the confetti" time.
Imagine leaving your reception in a downpour of sparkle. As the confetti flutters to the ground, you're reminded of all the fun times that you and your groom have shared and how many more good times are to come. It's like each piece of the sparkly explosion represents every joyous memory, every moment worth celebrating, and the overall joy you have in your heart for being forever-bound to your best friend.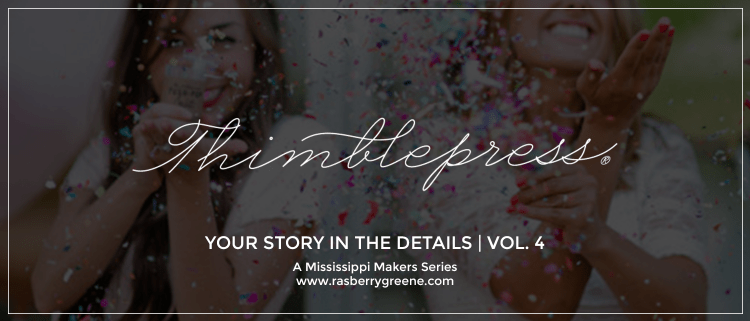 For the couple that wants a lighthearted celebration and items that make you want to throw on your dancing shoes and boogie the night away; or to try something besides bubbles or sparklers to be their accomplice as they leave their reception; or the couple that are eco-conscious and are looking for a beautiful solution, we will let Kristen Ley of Thimblepress introduce you to the world of Push-Pop Confetti™.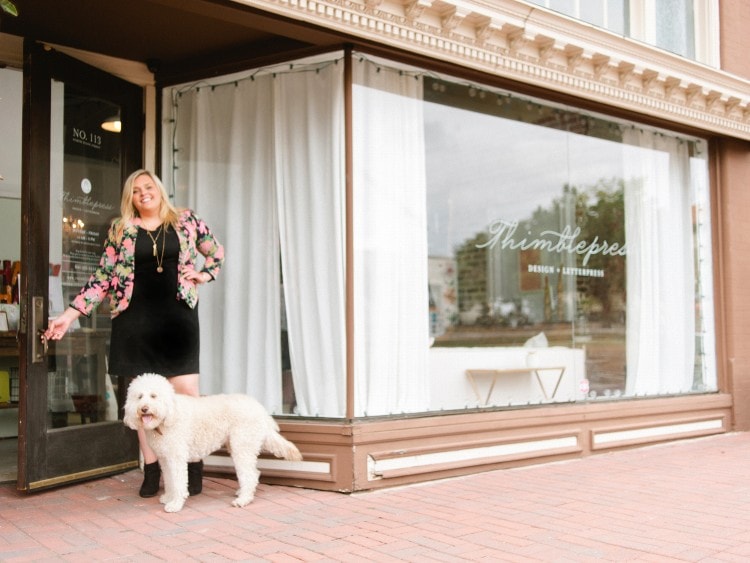 What was the inspiration behind your Push-Pop Confetti™?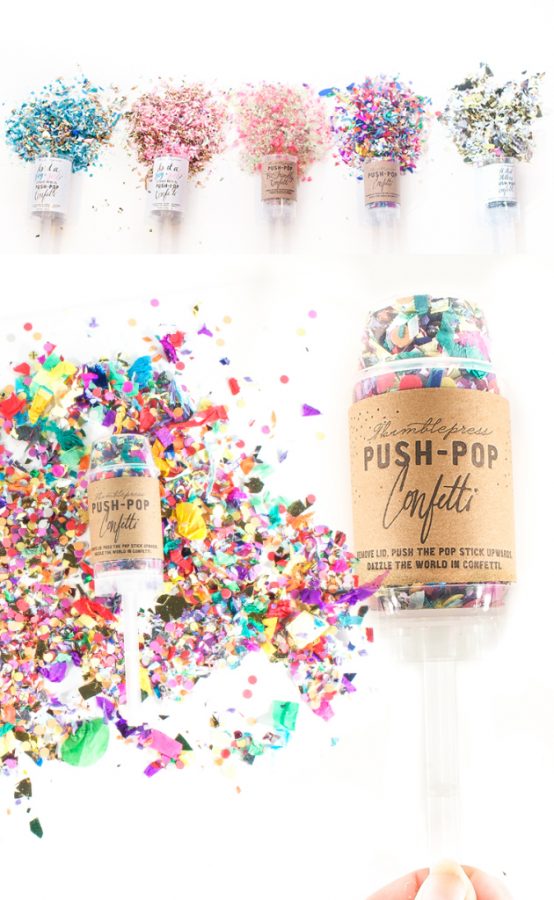 The inspiration from the original Push-Pop Confetti™ came from my love of the nostalgic ice cream treat we all remember from childhood and of course, parties and celebrations.
I have always loved celebrations and parties, so when it came down for me to announce my first showing at the National Stationery Show in 2013, I wanted to come out with a bang… literally. I wanted the invitations to be a "party in a box" as I say. I filled the box with a custom balloon I had made, a letterpress card, a custom party hat, and a Push-Pop Confetti™. I knew I wanted there to be confetti in the box, and I knew I wanted it to be more than just a bag of it. I wanted it to be memorable and fly in the air!
When coming up with the idea, I originally tried to engineer my own out of a toilet paper roll and a wooden dowel. Needless to say, there is a reason why I am not an engineer. I wanted the Push-Pop Confetti™ to have that cardboard body like the push-up ice cream we all remember from childhood. I was even going to do a little wax cover over it like the dessert.
Once I realized that my toilet paper roll push-pop idea was a bust, I began searching for clear tubes, with no intention of returning back to my original idea. I stumbled across a company in the USA that manufactured their own design of a push-pop container. I read about it and realized that people were only using these for desserts, but I figured, can't you put anything in them?
I ordered 100, which seems small now as we are ordering palettes of 6000 at a time every other month now, and I began to experiment. I decided to do a cardboard/chipboard belly wrap around it to give a little kick-back to my original idea of using cardboard like the ice-cream push-up. I letterpress printed each label and still do, although we have some other labels for different variations now like an "All That Glitter's" foil stamped label.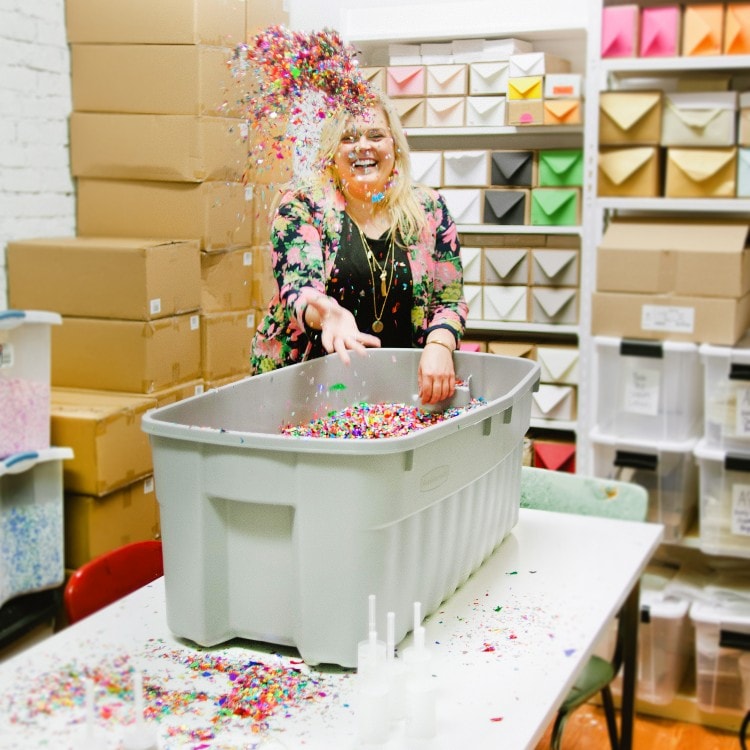 When I first started creating them, I cut each piece of confetti by hand. There was no shiny mylar as I could not find sheets to cut down into small pieces. That has all changed, and sparkly-color is the name of the game!
We still manufacturer all of our push-pops in our downtown Jackson, MS studio. Each of them has been topped with a sticker to remind you that the container is food safe and can be used again, stuffed with confetti, branded with a label, and sealed to ensure it does not pop in transit (and from curious children's hands).
Since then, we have developed the Eco-Friendly Push-Pop Confetti™ which features a corn starch base confetti that dissolves in water and lavender buds for a nice scent, the All That Glitter's Push-Pop Confetti™ which is an all metallic confetti base, and a Gender Reveal Push-Pop Confetti™ which reveals the gender of a baby by using a label to conceal the blue or pink color in the middle and gold confetti on the outside and bottom (when popped the color is revealed).
Never in my wildest dreams did I ever think confetti would be such a huge part of my life, but I love it so very much! It brings sheer happiness!
What is your favorite way you've seen your Eco-Friendly Push-Pop Confetti™ used in weddings?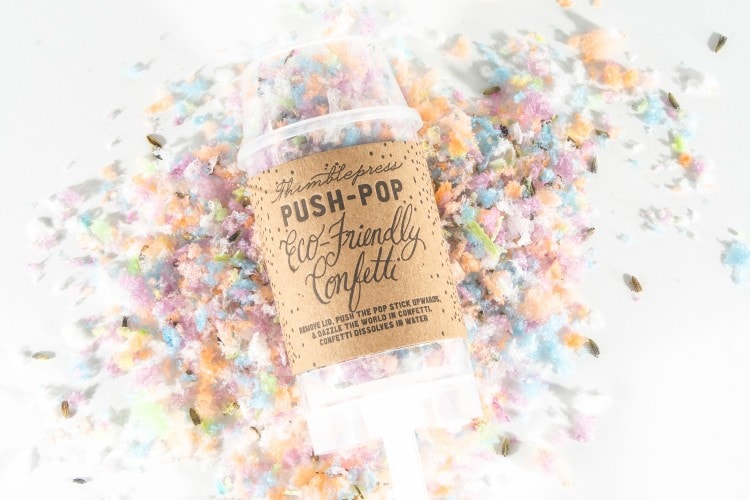 I love being able to customize the labels for weddings, so seeing that done and then used at a reception exit has to be my favorite! My favorite Eco-Friendly Push-Pop Confetti™ exit had to be my cousin's wedding at Ahmanson Ranch House in the Santa Monica Mountains in Southern California. It was already the perfect scenery, and add in the push-pops and its as just perfect!
How do you think Push-Pop Confetti™ could be used to tell a unique wedding story?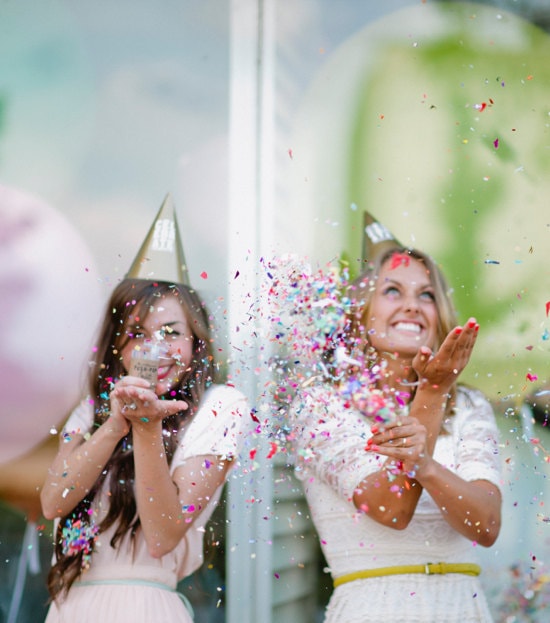 Our Push-Pop Confetti™ is not for everyone. I mean it should be, but not everyone is a confetti person. Personally, I think confetti people are the best, but seriously it helps bring another element of fun to the wedding. Who doesn't want sparkly bits of color flying through the air?
Which kind of Push-Pop Confetti™ is secretly your favorite and why?
Definitely the original. The original Push-Pop Confetti™ started it all. We add in so many different types of paper, mylar, and confetti to the mix. It is definitely a confetti blend like no other and the labels are letterpressed by me on my 1925 Chandler + Price letterpress.
If you were to use Push-Pop Confetti™ in your wedding, how would you use them?
Definitely when I left the church/wedding ceremony and after the reception. Shoot, we would probably have a bin of them with a photo booth so people could take their own Push-Pop Confetti™ videos and photos. People would be covered in colorful confetti all night long and the dance floor would for sure be covered in confetti.
How would you tell your story through your future wedding?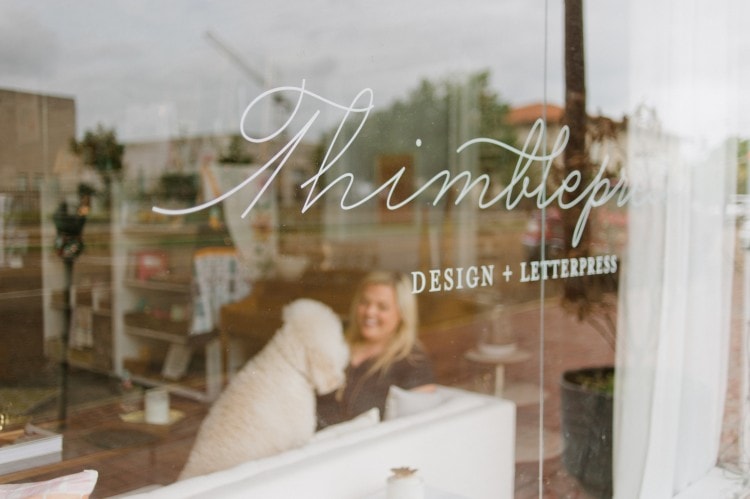 Well, first that would take me finding a groom.. ha ha! I have always envisioned getting married at the tiny church in Taylor, Texas that my mom's parents got married at. My aunt actually has a painting that a man painted of it (that she coincidentally purchased at a flea market not even realizing it was THAT church). The church sits in the middle of Texas farm land. Texas is where I am originally from, and every time I visit I feel this almost gravitational pull to the land.
The reception would be at my great-grandparent's (they are no longer living) over 100 year old farm house that he designed and built. He came over from Germany and was an architect. He designed & built the farmhouse with it's half-wrap porch and many of the buildings in Taylor, Texas. I take a lot of pride in that, and like to think that I get some of my creativity from him.
The home sits right in the middle of corn fields and when the corn is ready to harvest it grows almost all the way up to the front porch. There is a barn, cows, horses, and so many memories. Much of my childhood was spent in Taylor, and out on that farm. I remember lying in bluebonnets with my mom and taking photos.
It is a special place for me, and a place I could definitely see getting married at.
If there was one piece of advice you could tell a bride, what would it be?
I have never been a bride so I feel like I do not have a leg to stand on, but just being a person who has been a bridesmaid more times than the fingers on my hand, I would say to breathe.
This is a wedding. You have your whole life to plan your adventures together and be together. Don't put so much stress on the wedding. Let it be you and nothing but who you and your fiancé are together.
Don't let people tell you what to do or let social "norms" define you. This is a celebration of your love for one another; not a show, not a business meeting, or networking function. Invite and share this day with the people that you really love and care about; people that know you as a couple and support you.
To me, there is nothing crazier to me than filling empty seats with people who are only there because they knew you one time or work with your parent's brother's son's friend. This is YOUR time. Enjoy the process and let it bring you closer together and closer in your relationship with Christ.
If you could write your future bride-self a note to read on your wedding day, what would it say?
Dear Kristen,
I hope you didn't let anyone talk you out of letting Willow be a bridesmaid in the wedding. She is your baby, and should be there on your special day. I hope you are breathing right now, and breathing in a way that you know you are so secure in where you are at with this man you are about to marry.
I hope you both love Jesus, and are thrilled to start a journey in marriage and relationship with Christ together. Know that HE is the most important thing in your relationship.
I hope today is surrounded by the people you love and support you fully, the people that care about you and not what you can do for them.
I hope today you let your freak flag fly on the dance floor and you never feel uncomfortable. I hope everyone you greet makes a tear form in your eye because you are so overjoyed to see them.
I hope a lot for you, but what I hope the most is that you have fun and remember today.
What could others do with your product?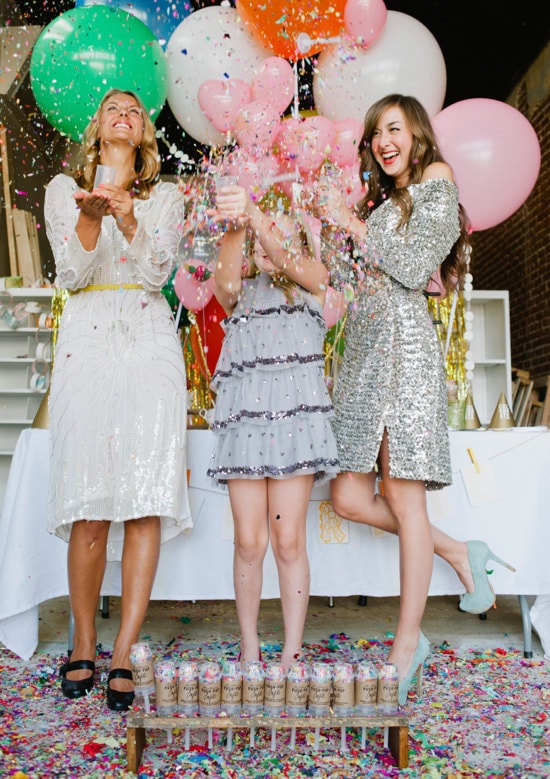 As far as the Push-Pop Confetti™ goes? People use them for all types of celebrations, big and small. The cool thing is that after you use it, you can save the container and lid and reload it with confetti for more colorful fun, or they can be used to put a real dessert in. It is freezer safe as well, so the pop can go right in the freezer for a homemade popsicle!
What are some of your favorite handmade wedding vendors in Mississippi?
Gosh, this is hard.
I love Lucky Luxe based out of Laurel, MS. Being in the paper & printing industry, we love having a friend and neighbor in Erin who creates beautiful invitation suites and paper wedding elements. Lucky Luxe offers an album of beautiful options to choose from to customize or the Bespoke route.
Ginger Williams Cook does beautiful wedding paintings. She was recently at a friend of mine's wedding and creating beautiful scene sketches throughout the ceremony and reception. Live painting at it's finest.
I am definitely partial to Lesley of Tulip Curated Florals & Event Styling. She is my studio neighbor, but all that aside I think she creates some of the most beautiful floral work that is out there… like in the world. She has a natural gift for creating art with flowers.
Bonnie of Southern Sprout does an awesome job creating beautiful elements for wedding's with her calligraphy skills and chalkboard crafting abilities. They are so intricate, and they always blow me away!
Claire of Scripted Calligraphy has a beautiful hand for calligraphy and other illustrations. She is always looking to push the envelope and challenge herself with new techniques.
Beth of Beth Morgan Photography takes wedding photography to a different level. She specializes in film work, and is paving a way as a national expert on film vs. digital. She loves learning the latest and greatest techniques and takes pride in the working on a very personal level with each client.
You can find Thimblepress on:
Website     Etsy     Facebook     Instagram     Twitter
Martha Stewart American Made Finalist     Glitter Guide x Thimblepress Collection