Your Story in the Details Vol. 3

Wild & Free Designs
"Once you have traveled, the voyage never ends, but is played out over and over again in the quietest chambers." – Pat Conroy
From a whimsical beginning to a historical past, globes can signify so much meaning in a wedding. Weddings are a celebration of one of the greatest journeys a couple will embark on together: a marriage. Not only are globes bold symbols of the adventures that await the betrothed couple, but they can also be personal attributes to how the couple met, the distance that their love has endured, or their favorite hobby to do together.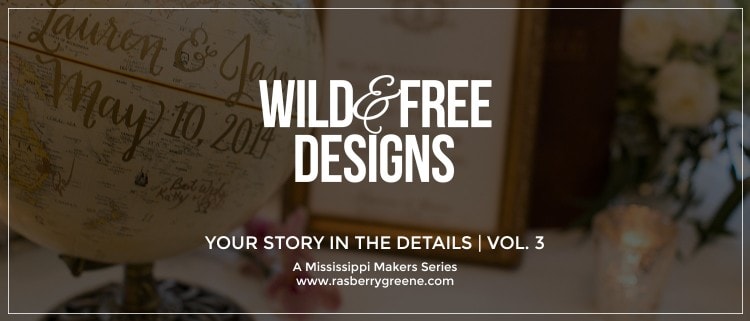 Laura Maxcy of Wild and Free Designs out of Jackson has mastered the art of personalizing vintage globes to fit into couples' homes and hearts. As people that like to take the road less traveled, we're excited to share with you these amazingly unique items that Laura has created right here in Mississippi. With her hand-lettered messages that she paints onto the globes, she helps capture the free spirit of wanderlust, and she shows that the path of life might not always be straight and narrow, but full of twist and turns, and that the best adventures are always down the off-beaten paths.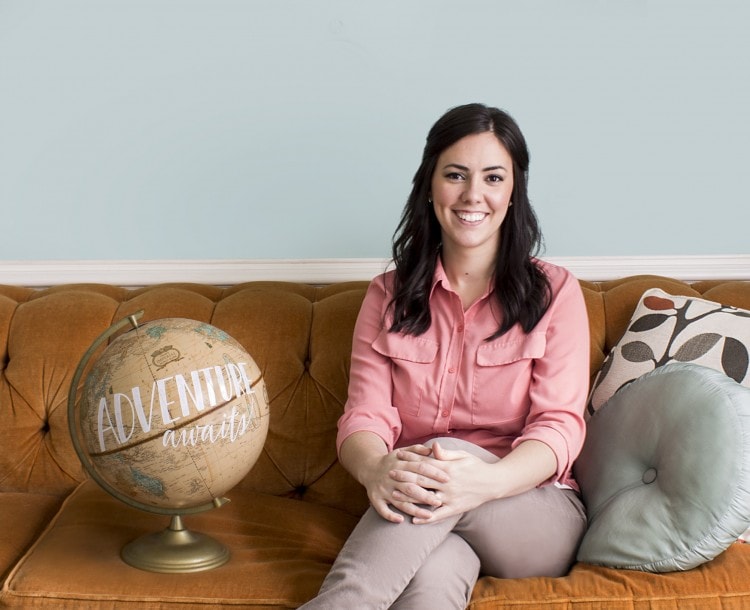 What was the inspiration behind your globes?
I've always had a love for globes.  I had one as a child, and I remember spinning the globe and stopping it with my finger saying, "This is where I will get married, this is where I will live," and so on.  When I started doing lettering and decided to make a business out of it, I wanted a unique canvas on which to do the lettering and the globes just stood out to me.
What is your favorite way you've seen your globes used in weddings?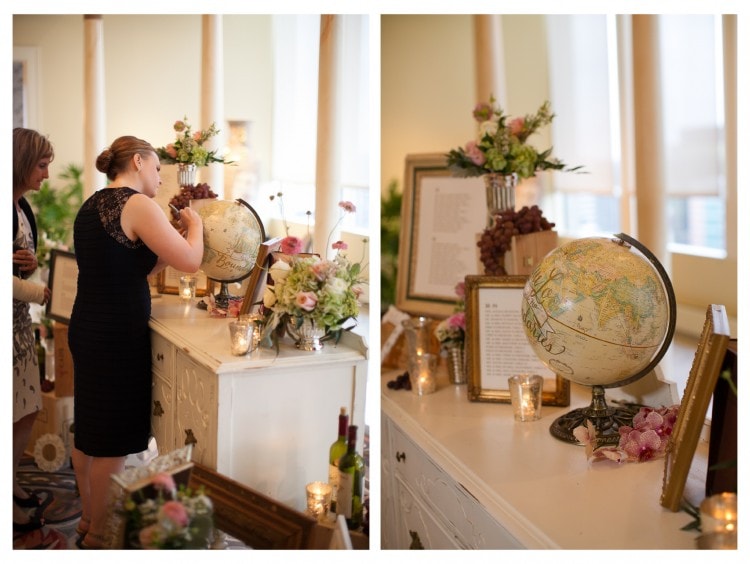 Header image and above by Ashle Photo
One of my favorites is for the sign-in at the ceremony.  Guests can sign the globe, then the couple gets to have a personal and unique keepsake that they can cherish in their home for years to come.  For one globe, I drew a dotted line from the couple's wedding destination in Italy, to their honeymoon destination in Bali, and finally back to their home in the U.S.   Another fun way I've seen a globe used was my "The World is Your Oyster" globe on an oyster bar!
How do you think your globes could be used to tell a unique wedding story?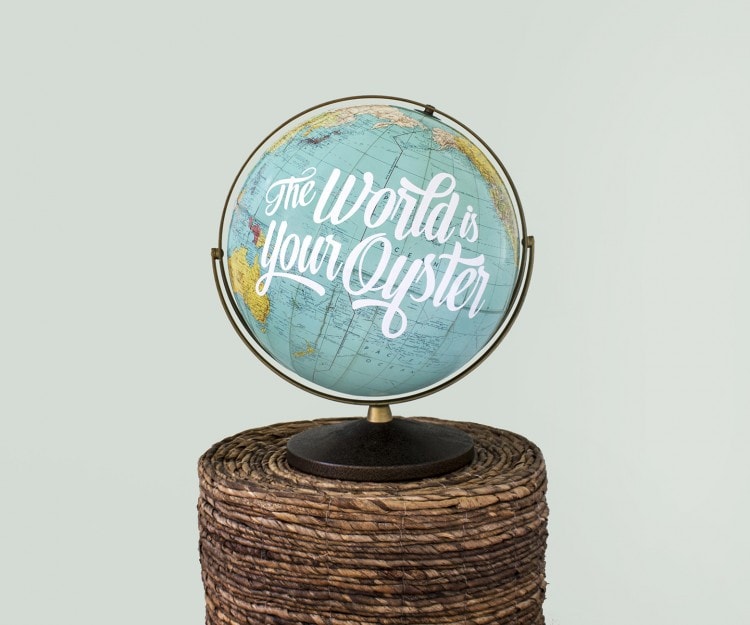 I see more and more people adding vintage touches to their wedding these days.  It's a good way to bring some history and tradition to your big day.  Telling a unique wedding story is all in the details, and having a globe for either a destination wedding or a travel-themed wedding at home is just one more extra detail that contributes to your wedding's story and makes it that much more special.
If you were to go back and use globes in your wedding, how would you use them to tell your story?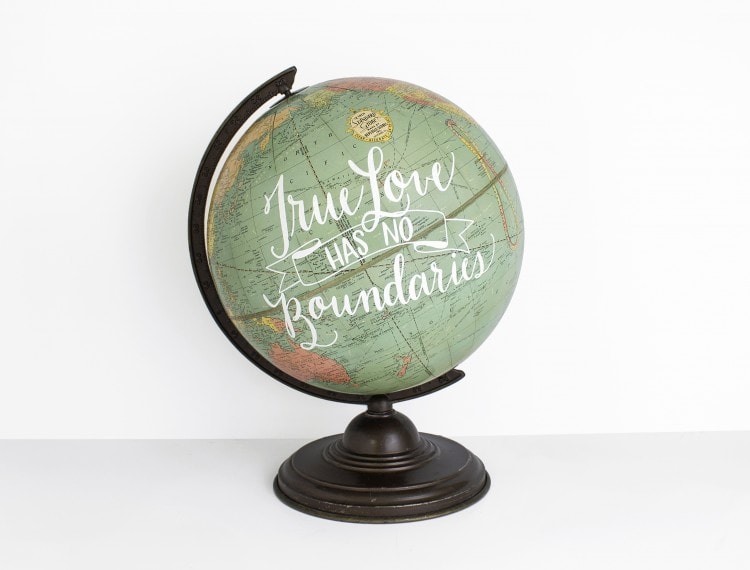 I got married a little over five years ago, before I was doing the painted globes.  But if I could go back and use them, I would probably do a globe in the center of each table at the reception, and letter them with different words or quotes that meant something to me and my husband.  It's all about the personal touches and sharing the things that you and your fiance love with your family and friends.
If there was one piece of advice you could tell a bride, what would it be?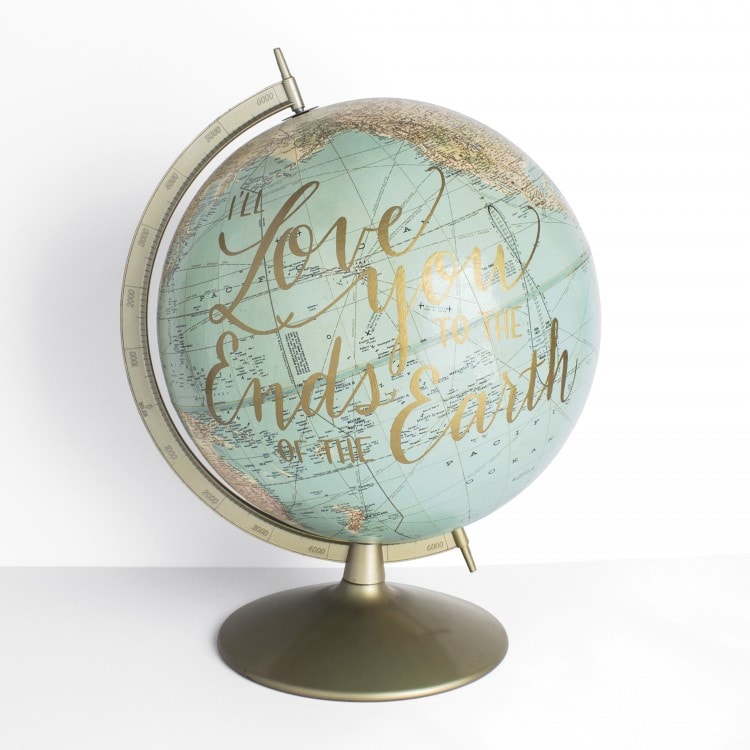 When you begin plans for your wedding, make a list in two columns:  Things Important to Me and Things Not as Important to Me.  This will help you decide where to spend your money and where to save.  For example, if having your dream photographer is really important and the cake is not so important to you, you can save your money by doing a less expensive cake and put that money towards the photography.   Also, get all your stressing (because we all do it) out of the way before the week leading up to the wedding.  That way you can enjoy your special day without distractions and can remember it fondly for years to come.
If you could have written your future bride-self a note to read on your wedding day, what would it have said?
Enjoy spending time with your bridal party, family and friends while they're all together in the same place on the same day;  you'll soon realize you won't get that opportunity very often.  Also, laugh when the wedding cake starts to fall and your dad runs over to catch it (true story).
What could others do with your product?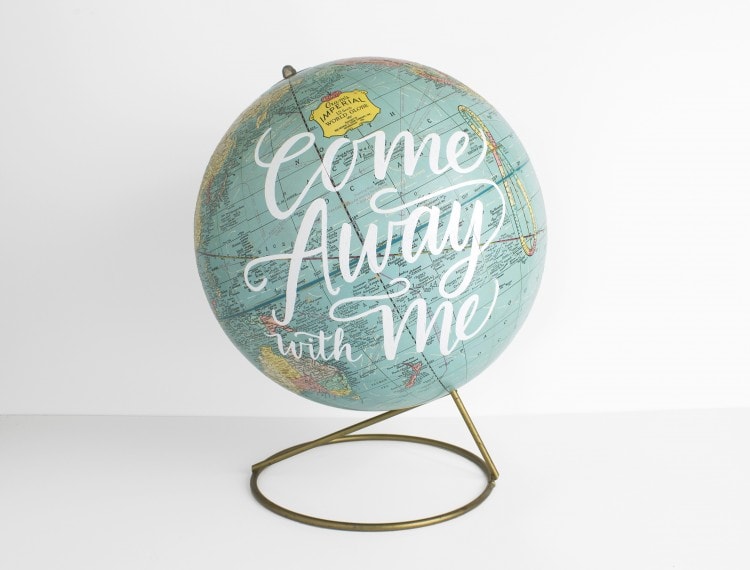 Aside from weddings, I do a lot of hand painted globes for anniversaries, housewarming gifts, nurseries, and graduations.  While the globes for weddings and anniversaries usually have a quote about love or the names of the couple, the other globes may have inspirational or motivational phrases like "The World is Your Oyster" or "Adventure Awaits".  I also do art prints and work with vintage maps and hand lettered glass frame pieces.
Who are some of your favorite handmade wedding vendors in Mississippi?
These are some vendors I love that either I or my friends have used:
Tulip Floral 
Kay's Kreations
Thimblepress
Cups-N-Cakes Bakery
Rylee Hitchner Photography
You can find Wild and Free Designs on: