Your Story in the Details Vol. 9

Scripted Calligraphy
From its historical beginnings of quill and ink, hand-penned calligraphy demands attention from everyone that sets their gaze towards it. It beckons to a time forgotten. A time before Helvetica, machines, and mass-produced stationary. A time when handwriting was truly a representation of everything that you stood for and aspired to be.
Even though many traditions of that time period have been long forgotten, thankfully, we still have artisans that look back to those simpler times to recall the majestic script for bold impacts on special days.
Claire of Scripted Calligraphy is one of those special artisans that studies the art of calligraphy. Hand lettering has been a part of Claire's story since she was a little girl, and it's a passion that she continues through couple's wedding stories. We're happy to introduce you to this Mississippi Maker that knows the true meaning of the "story in the details."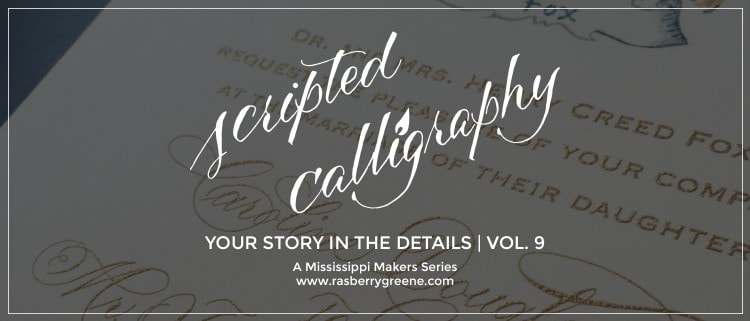 How did you get into wedding calligraphy?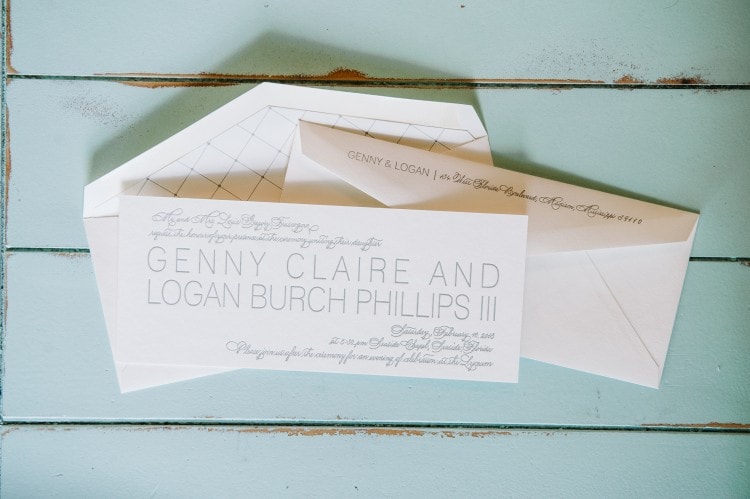 My good friend's son was getting married and she asked me to address the invitations. She knew I had talked about learning calligraphy, so I suppose she knew that this was the way to motivate me or shut me up. After I got through panicking about the idea of addressing 600 envelopes, I enrolled in a six weeks class. I took the class at night and practiced for hours every night and several hours during the day. I viewed all videos I could online and looked at hundreds of photographs of calligraphy dating back to the 1800's from some of the master penmen. I think I was a little obsessed.
To learn all I can about the art of calligraphy, I regularly attend IAMPETH convention (International Association of Master Penmen and Engrosser and Teachers of Handwriting) which is held annually in a different state. I am also a member of the Birmingham, Memphis, Nashville and Washington calligraphy guilds. I truly love my job!!!
What is the inspiration behind your hand-penned calligraphy?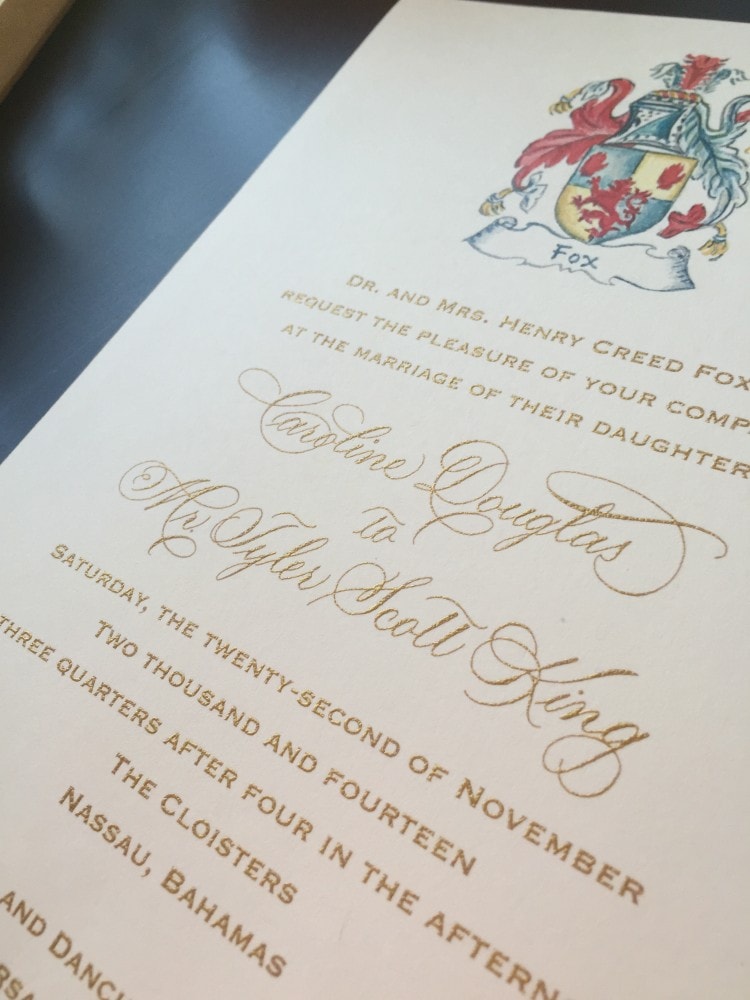 I had a desire for lettering as a young girl. My father was a great letter artist and I use to watch him at night do signs for his store on a large scale. He did all the lettering for his delivery trucks, too. I can remember watching the flow of the paintbrush as the letters formed and thinking just how cool that was. So, I suppose my Dad was my greatest inspiration.
How do you think hand-penned calligraphy could be used to tell a unique wedding story?
As soon as a girl gets engaged, her head starts spinning with ideas of what she wants her special day to look like. To me, there is nothing more telling about that girl than the style wedding invitation she chooses. The invitation really does set the tone of your entire event. It lets her guests know just a little more about her and her style. Is she a traditional bride, a vintage bride, a lover of all things contemporary, an old world classic or is she a mixture of all? Anyone can choose a font from the computer but having your details hand-penned by a calligrapher is much more personal. It automatically tells me that this girl is into detail and cares deeply about her look. People do notice this and really appreciate your individual style. That is what makes your wedding special. If you can't afford the entire wedding invitation to be hand-penned, ask a calligrapher to do your names in calligraphy. That is a good way to have some special detail added to an otherwise basic invitation. Choose your style, stick with it and don't stray. If you aren't a person that loves detail, choose someone you love that will help you do this. It is important and it does tell your story!
What style of calligraphy is secretly your favorite and why?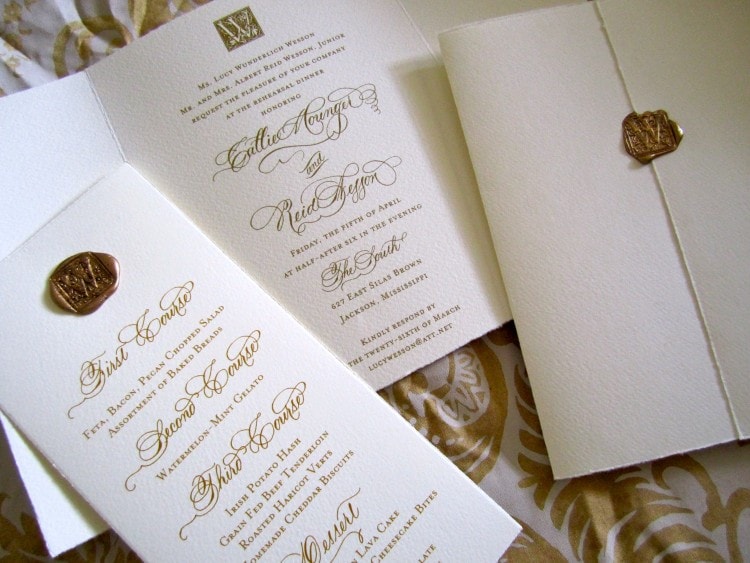 I personally love Spencerian script. It is an old script that started in the 1800's by a man named Platt Rogers Spencer. It was a script that was taught in schools but later developed into an elegant style that many of the old master penmen used to show off their skills. Spencerian script has beautifully flourished capitals with a very simple lower case. I have been studying Spencerian for years, I am by no means proficient at it, but I keep working on it. It is totally different from the traditional copperplate style. With that being said, I do love copperplate, which is what most brides want or a variation thereof. About three or four years ago, a more contemporary style emerged. While that style is fun and playful and can make for a beautiful wedding invitation ensemble, some of it is hard to read and messy looking to me. I think the calligraphers that can pull that style off are the ones that have been properly trained to start with then they create their own style based on correct lettering technique.
Did you use any style of calligraphy in your own wedding?
When I got married, calligraphy wasn't being used. You usually ordered a tradition invitation with a traditional font and your mother found someone in her circle of friends that had beautiful penmanship to address the invitations. However, if I were to get married today, I'd definitely have my invitation hand-penned in Spencerian script along with my envelopes, napkins, koozies, gift tags, etc.
If there was one piece of advice you could tell a bride, what would it be?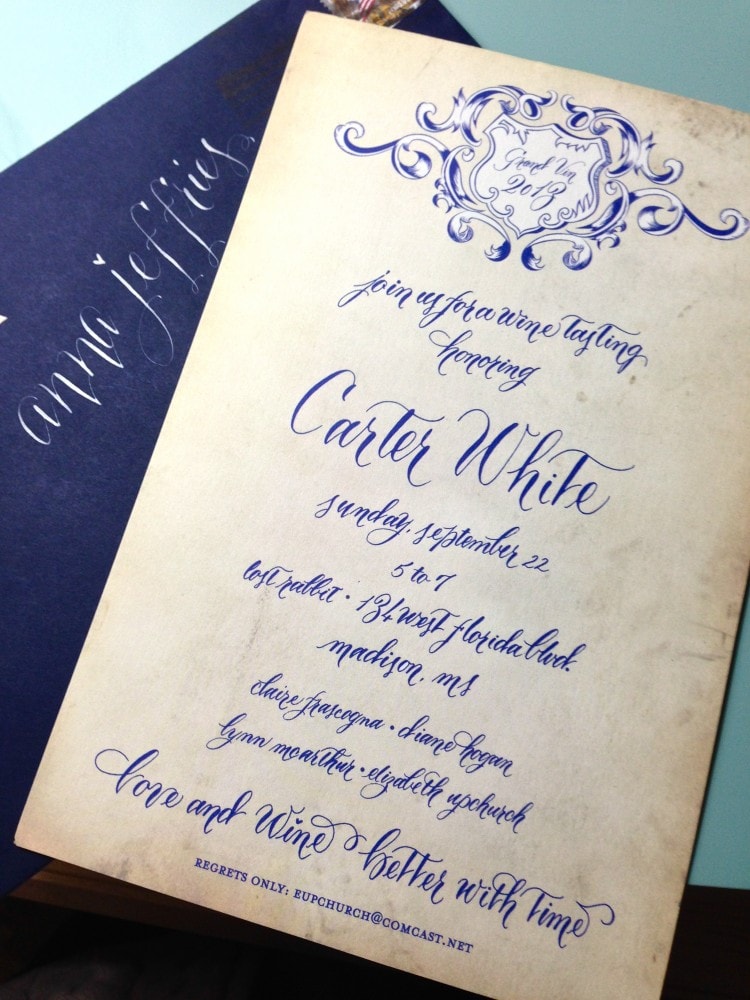 Determine your budget first and be realistic. Write down the things that matter most to you. Prioritize according to your likes and dislikes. When you go to your vendors, know your budget and tell them what it is. Most wedding vendors are willing to and will work within your budget. If they say they can't, then politely say "thank you for your time" and kindly exit. As for me, I appreciate the small jobs and the large ones and most vendors do, too.
What could others do with your product?
There are a variety of ways calligraphy can be incorporated into any event. I have listed just a few:
Wedding invitation, personal monogram, addressing, return address, reply cards, announcements, gift tags, maps, place cards, chalk signs at wedding/reception, thank you notes, baby announcements, holiday cards, birthday cards and calling cards.
What are some of your favorite handmade wedding vendors in Mississippi?
Tulip Floral, Jackson, Mississippi // Read Tulip Floral's Mississippi Maker Story
You can find Scripted Calligraphy on: