Your Story in the Details Vol. 11

Lucky Luxe
Couture Correspondence
"It's more than a piece of paper, it's the first page of this new family's history." – Erin Napier
A first page that has been sculpted together from the significance of wedding location, personal style, books, movies, and music. A first page that has been carefully crafted from many facets into a single image that makes one's heart flutter and elegantly depicts a story. It's about setting the stage for two families that will become one – combining both of their histories and traditions and showing them off in a truly breathtaking and intimate way.
In a way that really needs no introduction, Erin Napier of Lucky Luxe Couture Correspondence in Laurel, MS shows us how her wedding stationery really is more than just a piece of paper. Her work pays tribute to the past while gracefully paving the way for one of the most cherished days of your life.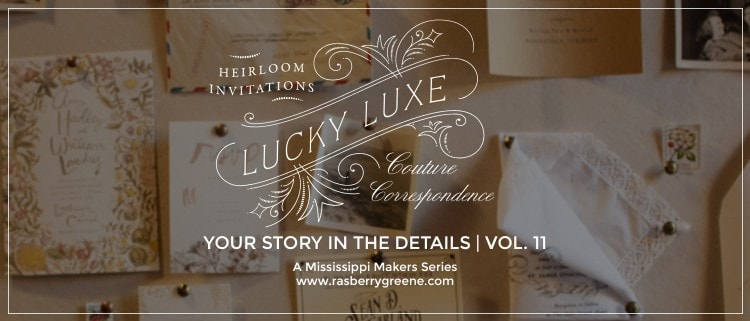 How did you get into wedding stationery?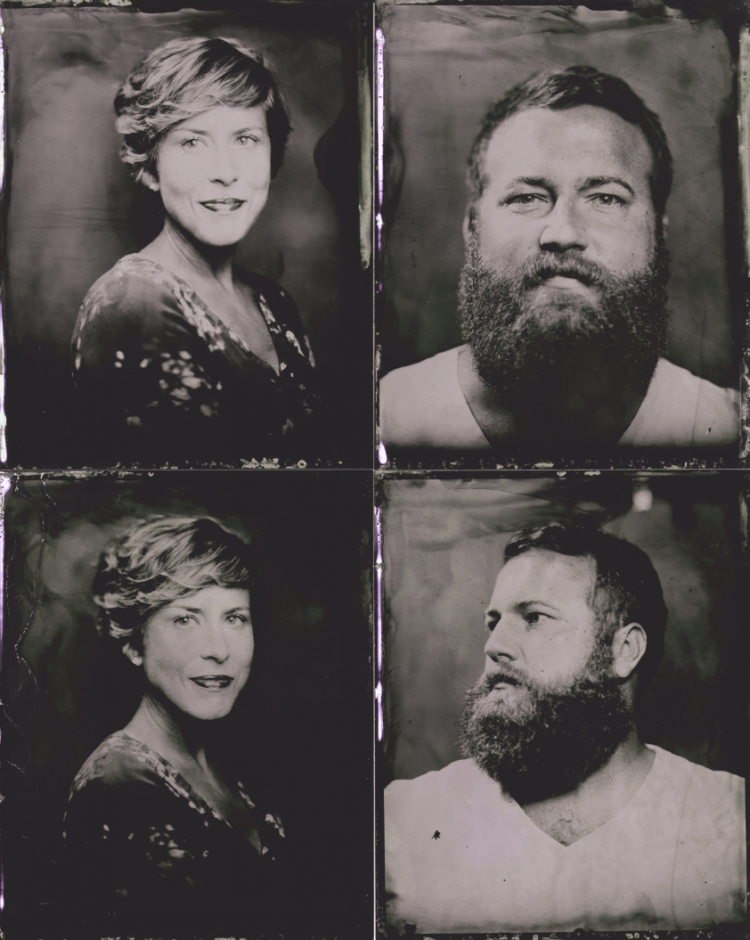 Erin & Ben Napier – Tintype Photos by Michael N. Foster
It was completely accidental that I've made a career of this, actually. I designed my own invitations and had them letterpress printed, then I started a blog of my freelance work and called it 'Lucky Luxe.' Soon, my friend Annalee asked if I would create something unusual for her wedding save-the-date, unlike anything I'd ever seen or designed, and I screenprinted a custom design on cotton and lace handkerchiefs.
I posted them on my free blog, a photographer from New York somehow stumbled upon it a couple days later, asked for the hankies for her own wedding, I made up a price and put together an order for her. When she received them she shared them on her own blog. I didn't realize what a reputable wedding photographer she was, because the next day I had 50 inquiries in my personal email account and blogs all over the world were talking about the "Lucky Luxe hankies."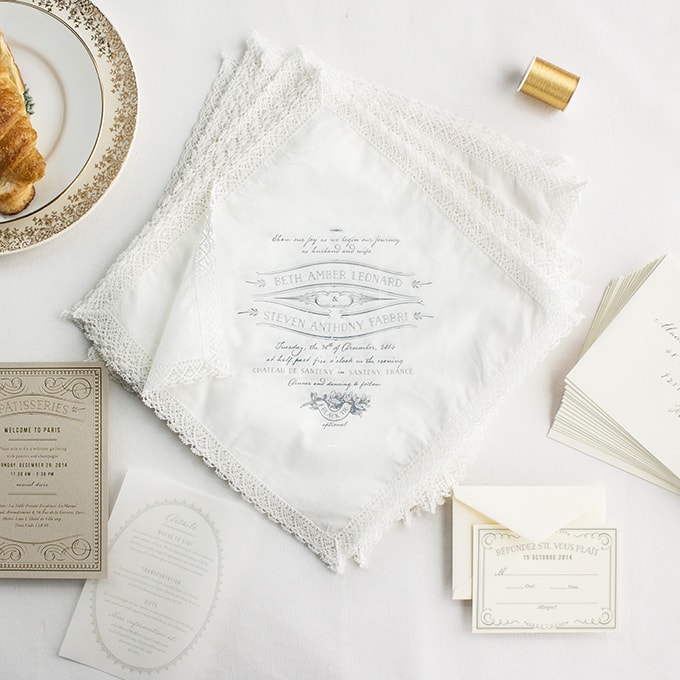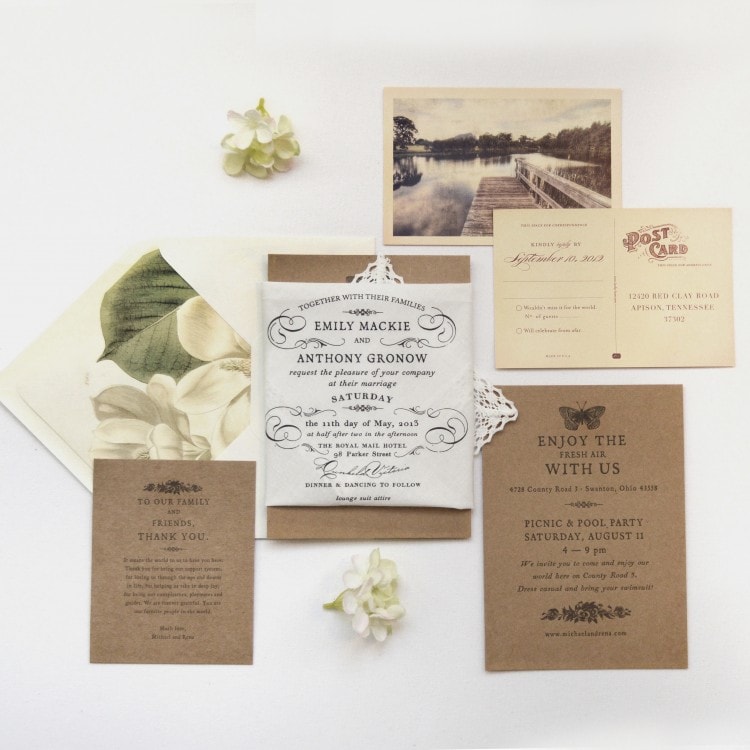 I didn't have a business, or an ordering system or any way to process payments… So I just got thrown into the swimming pool and started swimming. Before long, Lucky Luxe was taking up more of my time than my day job was and I left the cubicle to commit full-time to Lucky Luxe.
Since then, my husband Ben has joined me full-time in our mom and pop business. We've shipped orders to every country in the world and worked with famous athletes, actors, rock bands, and regular folks like us who appreciate vintage-inspired design. We average around 300 weddings per year and have 4 designers, 2 pressmen, 2 client coordinators, and 2 shipping and fulfillment managers. I am (trying!) focusing on just being the art director now, creating the new collections, overseeing all the creative work, and letting everyone else do their job that keeps Lucky Luxe chugging along.
What is the inspiration behind your design process?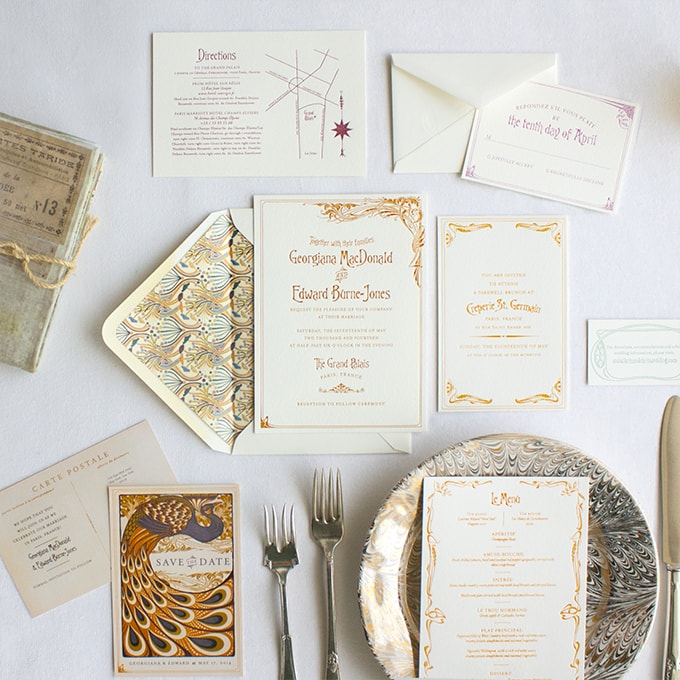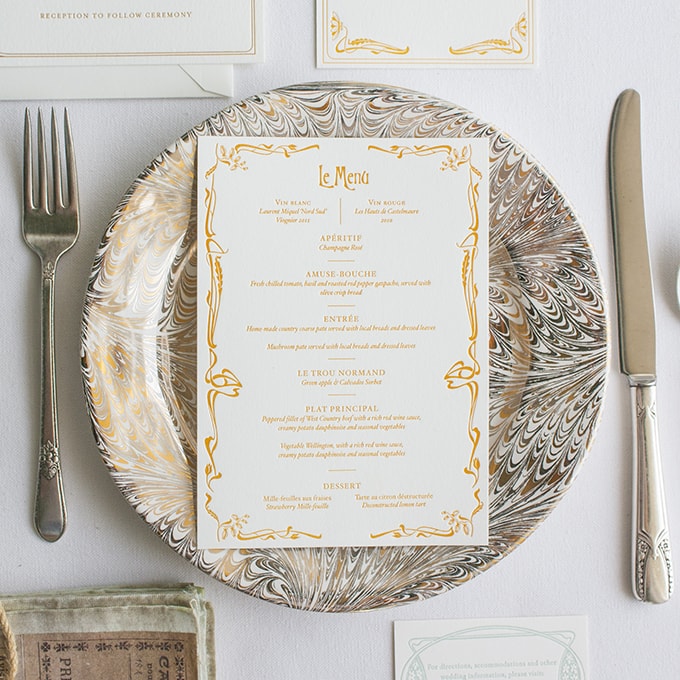 I never think of the fact that I'm working on a wedding. Weddings can be so derivative, with ideas taken from another one, then reworked, and that doesn't inspire me. What DOES inspire me is when I consider the historic/personal significance of the wedding's location, the couple's style, their favorite movies, books, and music, then the typefaces, ornaments and motifs that tell the story of all those elements. It's a kind of alchemy, finding the common thread that runs between it all, then creating a piece of art that represents that. When it happens, it feels like magic.
How do you think stationery could be used to tell a unique wedding story?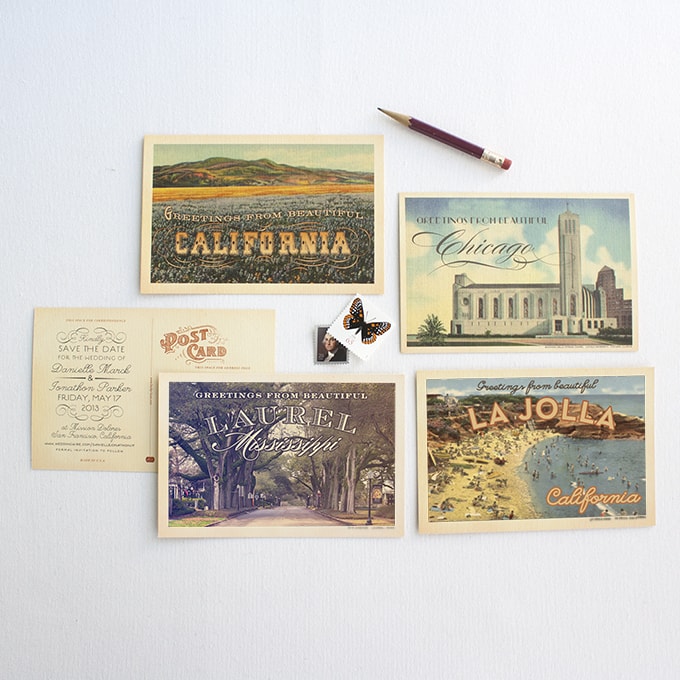 Beautifully designed wedding stationery 100% sets the style of the event months before the guests actually arrive and gives them something to look forward to, but more than that, it can be such an intimately personal expression of the people who are becoming a family. The party, the flowers, the invitations aren't the point of a wedding—it's the joining of two families. And isn't it special the way that piece of paper can make a bride and her family's hearts seize at the first look? It's more than a piece of paper, it's the first page of this new family's history.
What style of stationery is secretly your favorite and why?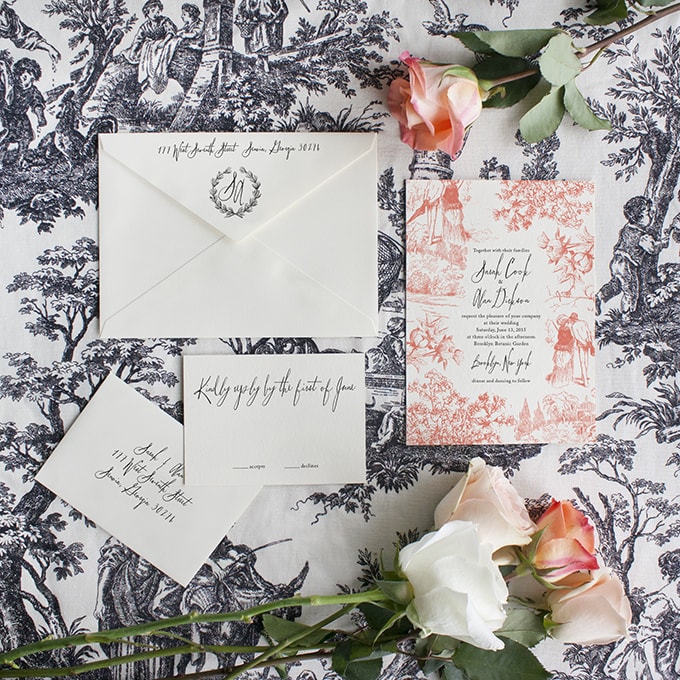 I've been defined as an 'historic, ornate' stationer by the press and by reputation, but often, the simpler designs still identify with my own personal style. My own wedding invitation was very minimalist, with 2 simple fonts. The less ornamental the design, if the right typefaces are chosen, it can say so much about the people being married. The super intricate motifs that kind of weave around fonts are still the most fun to build, though. The challenge of it becomes a game to me!
Did you use your stationery in your own wedding? If so, how did you use it?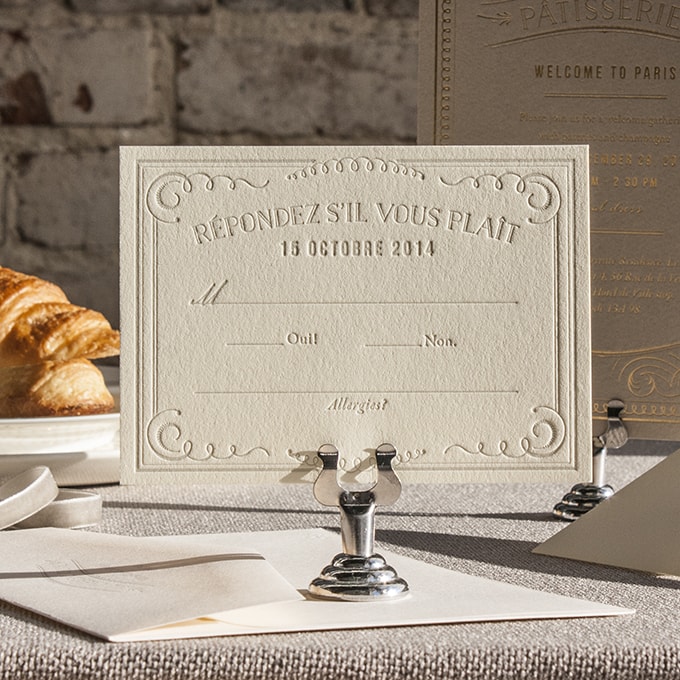 I did. They were letterpress, in Tiffany blue and deep red on cream paper. It was also the first time I created one of Lucky Luxe's signature designs—a digitally printed vintage-style postcard for the RSVP. I wanted my guests to see the historic beauty of Oxford, Mississippi in that envelope, and I don't think there's much more nostalgic than an antique postcard, is there?
How did you tell yours and your husbands story through your wedding?
We put all of our hearts into the actual wedding ceremony rather than fussing over every detail of the party afterward. The ceremony is the thing that matters, in our opinion. That's the event that makes two families one, that would change my last name to his, and we wanted to linger there instead of rush through it to get to a party. Ben's father, a Methodist minister who is this big, strong, bull of a man, is so warm and brilliant and kind, that we knew he would have to officiate.
He and I spent an entire Saturday making the order of worship together, and that will forever be my favorite memory of my sweet father-in-law. High church in all its reverence is our favorite kind of worship, and so our service was just that—formal, with congregational hymns (our favorite ones—Come Thou Fount of Every Blessing and Be Thou My Vision) and a small choir performed What Sweeter Musiccomposed by John Rutter, a beautiful song that makes me feel hot tears in my eyes because it reminds me of that week Ben and I met when I was in the college concert choir, preparing to perform this song. Ben's family is very proud of their Scottish heritage, so there were bagpipes in the ceremony that played the regal, upbeat Scottish anthem, Scotland the Brave, as we left the chapel.
I carried my grandmother's antique gold locket with photos of both sets of my grandparents who could not be there tied around my bouquet. And in that way, I got to carry them with me. It felt exactly like the perfect balance of our stories, and I feel warm all over thinking of the ceremony (even though it was about 40 degrees in the chapel that freezing cold day). The reception afterward took care of itself with 200 of our favorite people, soul food and Motown dance music at the old Oxford train depot.
It was an amazing party, but it certainly wasn't the point. I couldn't believe I was actually Ben's wife! My cousin Jim proposed to my best friend/roommate that night, too. There was much celebrating all around for our family.
Would you have changed anything about your wedding? Why or why not?
I wouldn't have chosen bridesmaid dresses! I would've let them wear what was comfortable to them. And Ben says he would've worn a kilt, in retrospect. Otherwise, I wouldn't change a thing.
If there was one piece of advice you could tell a bride, what would it be?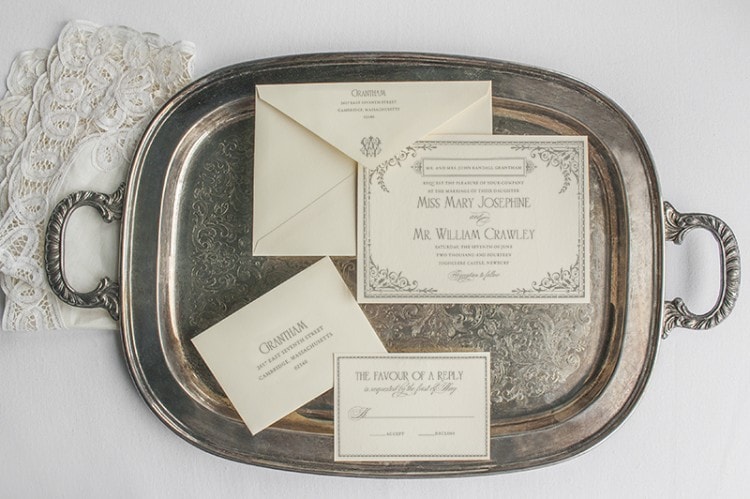 Make a list of all the things you need to accomplish before the wedding and cross off half of it right then. Most of it isn't important at all. An expensive wedding does not always equate to the sweetest, most genuine wedding. Never forget what the wedding is about—it's about family and commitment. If you focus on that, your wedding will be one of the greatest days of your life.
If you could have written your future bride-self a note to read on your wedding day, what would it have said?
Be gentle with your words when you disagree, never speak badly of your spouse to anyone (not even your best friend or your mama), and always be on each other's team. If you constantly lift each other up, no matter what, marriage is the most comforting, easy thing you'll ever do.
What could others do with your product?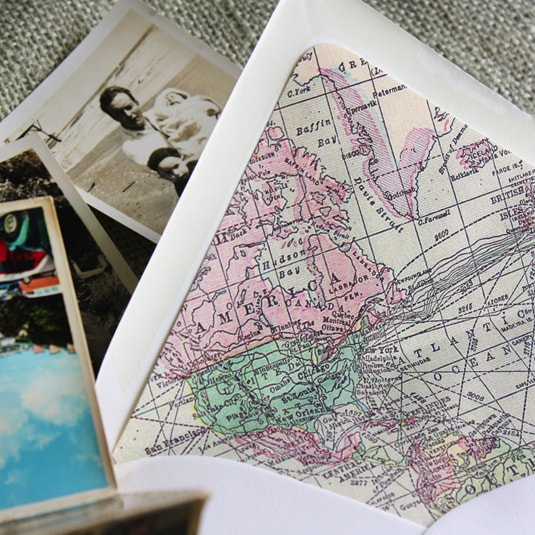 I think a lot of our handkerchief invitation clients put theirs in a shadowbox or tell their guests to bring them to the wedding "for their happy tears." I've also seen one of our letterpress invitations cut into strips and placed inside clear glass Christmas ornaments as a wedding gift.
What are some of your favorite handmade wedding vendors in Mississippi?
There are so many great photographers! I love BlackBird Creative for dreamy, vintage-inspired photography, and Michael N. Foster for one beautiful wedding portrait tintype. I don't actually have one since I didn't know him when we were married, but I'm jealous of folks who do!
Jade Yoder is a wonderful modern-style calligrapher here in Laurel.
For cake I've never tasted anything like the Italian creme and almond cake made by the French pastry chef at C'est La Vie for Lily and Adam Trest's wedding. I still dream about it. In Laurel, Julie at The Bake Shop makes beautiful cakes.
For catering, I can't adequately explain how delicious Romie's Grocery out of Tupelo is. They did our wedding in Oxford and people still talk about it. I also love Kerrie Hinton in Laurel—she's the go-to caterer in our neck of the woods.
You can find Lucky Luxe on: