Come on y'all! Be a part of the 2016 Cotton Gin Market!
Join us beneath the trees at the 2nd Annual Cotton Gin Market at Rasberry Greene, October 29th from 9AM – 4PM! Artisans, craftsmen, makers, and purveyors of vintage and antique goods will revel in the peaceful setting deep in the Piney Woods of South Mississippi.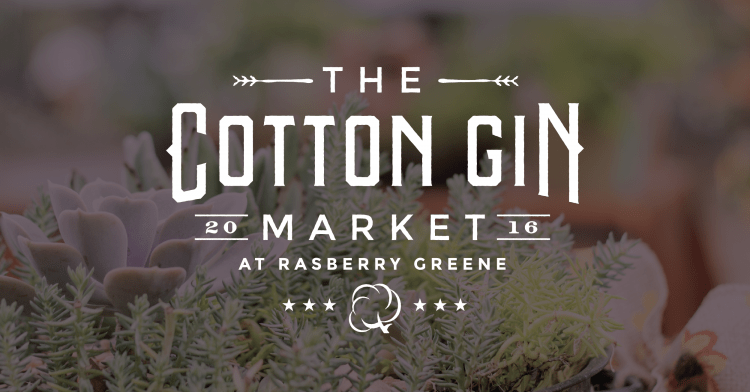 Crowds from the surrounding towns and cities will enjoy views of the tree-lined lake and the sounds of southern musicians strumming on two stages as they sample, discover and purchase the best antiques, crafts, and art the south has to offer at this new but beloved event.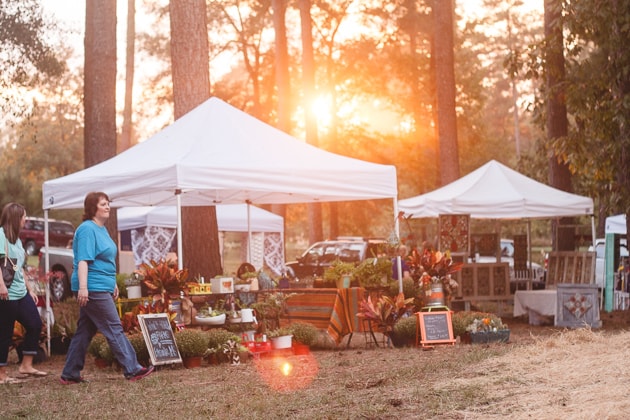 Located just 11 miles from Laurel, MS (home of HGTV's Home Town), 35 miles from Hattiesburg, MS (home of the University of Southern Mississippi), 75 miles from Jackson, MS, and approximately 107 miles from the Mississippi Gulf Coast, Rasberry Greene is perfectly situated to draw large crowds of art lovers, decorators, antiques collectors, and all those who appreciate the beautiful, handmade, and delicious!
The Gin at Rasberry Greene is a rustic, industrial wedding and event venue with an array of features including a lighted deck, wrap-around porch with rocking chairs, beautiful landscaping, a large lake, gravel drive and plenty of space for setup and take-down.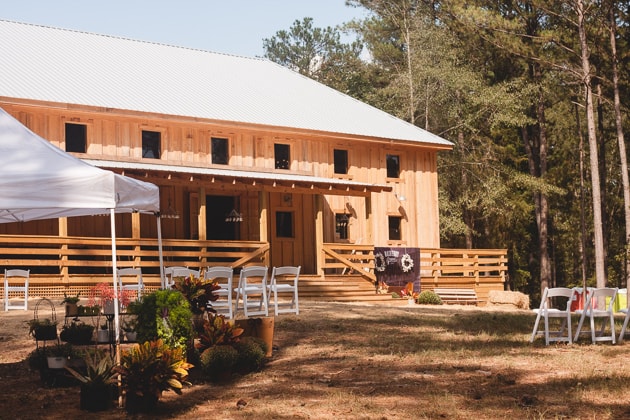 The strong Rasberry Greene brand has been crafted and cultivated over several years of social media engagement, professionally-managed online marketing and branding, and local buy-in initiatives. The 2016 Cotton Gin Market will be promoted with beautiful imagery, expert marketing tactics and all manner of advertising, social media campaigns and online marketing strategies.
With an intense focus on hospitality and service, the staff at Rasberry Greene will be on hand to help throughout the event. Hospitality space will be provided exclusively for vendors, complete with air conditioning, seating and refreshments.
Click here to download Vendor Application.
Click here to download Sponsorship Information.
Still not sure? Check out these sweet comments from some of last year's vendors!
"I really appreciated the hospitality room and the people coming by checking on me and seeing if I needed help. I've never seen this at a show before and it definitely speaks to the character of the owners and location."
Melinda Bradshaw
"Friendliest staff and best servant's hearts of any event we've ever been to! Great job & beautiful place! Can't wait to come back next year!"
Sweet Daddy's Kettle Corn
"The hospitality was better than I've experienced at any other show! The music & food were incredible!
Cheri Barnard – Rusty Birds
"Good southern hospitality and friendly staff! Great all together!
Cheri Wyrick
"Location was beautiful, people were very helpful.
Just all-around great show!
Mary Herrington
We hope you will join us as we bring the Cotton Gin Market back to South Mississippi!