William G. Rasberry: Proprietor and Patriarch
Today, when we find ourselves low on grocery staples or dry goods, we simply hop in our vehicle and run to the nearest dollar store or grocery. We pull out our debit cards, grab our plastic bags and are on our way without a second thought.
We might run into an acquaintance or two along the way, but usually, we do our best to get in and out and on with our day.
The image of a general store in the early 1900s is foreign to us. Gone are the times of long weekly trips to gather supplies, the practice (or art) of bartering for goods, and the use of shop credit to keep things running until the crops come in. For us, shopping is more about convenience than survival, more about anonymity than relationships.
In 1920 farming was simply a different, and much more difficult, way of life than what we are accustomed to. WWI was a boom time for farmers. When the war ended, farmers found it increasingly difficult to repay debts and to keep their livelihoods afloat.
The small town general store owner was not only a resource for local folks, but it was within the walls of his little country store where local news was gathered, politics were discussed and all manner of relationships began.
At the store of William Green Rasberry in Soso, Mississippi – life was no different. Being a farmer himself, he knew the importance of the services and goods he provided in his little shop, and he knew that his job was more about the people than the goods on the shelves.

A small town Mississippi Boy
Bill, as the locals called him, was a Mississippi boy born and bred. He was born May 10, 1898 in Scott County, MS. His parents, Rufus and Cornelia Gatewood Rasberry, had 3 children, of which Bill was the youngest. They later adopted his cousin Hubert Harvey. They were a farming family from the small town of Homewood, MS.
In 1908 Rufus left on horseback to find a town with good schools and fertile farming land. He decided on Bay Springs, MS and, soon, the family moved, leaving all of their other relatives behind, to start a new life in the small town.
As a young teenager, Bill found a job at Thigpen's Store. When WWI began, Bill was too young to enlist. He continued working in the small general store until he came of age in 1917, when he immediately volunteered to serve. When the war ended in 1918, Bill returned to Bay Springs with a deep patriotism and love of country that lasted all his life.
In about 1921 he had an opportunity to move to the fairly new town of Soso. With the backing of Mr. Thigpen, Mr. Tom Terry from Laurel and the Commercial Bank of Laurel, he opened Rasberry's Country Store.
The store carried all of the necessary accoutrements for small town farming life. The shelves were lined with dry goods, groceries, shoes, feed, seed, fertilizer, farm implements and even caskets!
Many local folks found employment in Rasberry's Store, and one would later become an important part of the Rasberry family, but that is a story for another time.
Some of the employees of Rasberry's Store through the years: Linnie Valentine, Mary Bush, Adam Broome, O.B. Hinton, H.L. Welborn, John Gatewood, R.B. Clark, Delma Shows, Morris Musgrove, Troy Gatewood, Ray Duckworth, Bernis Hill, Bobby Musgrove, Moddie Harper, Vallie Collins, Nettie Rasberry, R.L. Valentine, Tillis Powell, Lucy Welborn, Luna Gatewood, Annie Clark, Dovie Bush, Nell Broome, Jack Murphy, George Hill, Zada Hill, and Harley Jefcoat.

Catching the farming bug
As farmer after farmer came through the store each day, gathering supplies for the season or discussing this month's crop or new harvesting techniques – it's no wonder that Bill soon decided to start a farm of his own.
He bought land southeast of town and began growing corn and cotton. But, like most entrepreneurs, he couldn't resign himself to simply sow and harvest. It wasn't long before the Rasberry Cotton Gin was built and Bill became a cotton buyer for Anderson Clayton Cotton Co.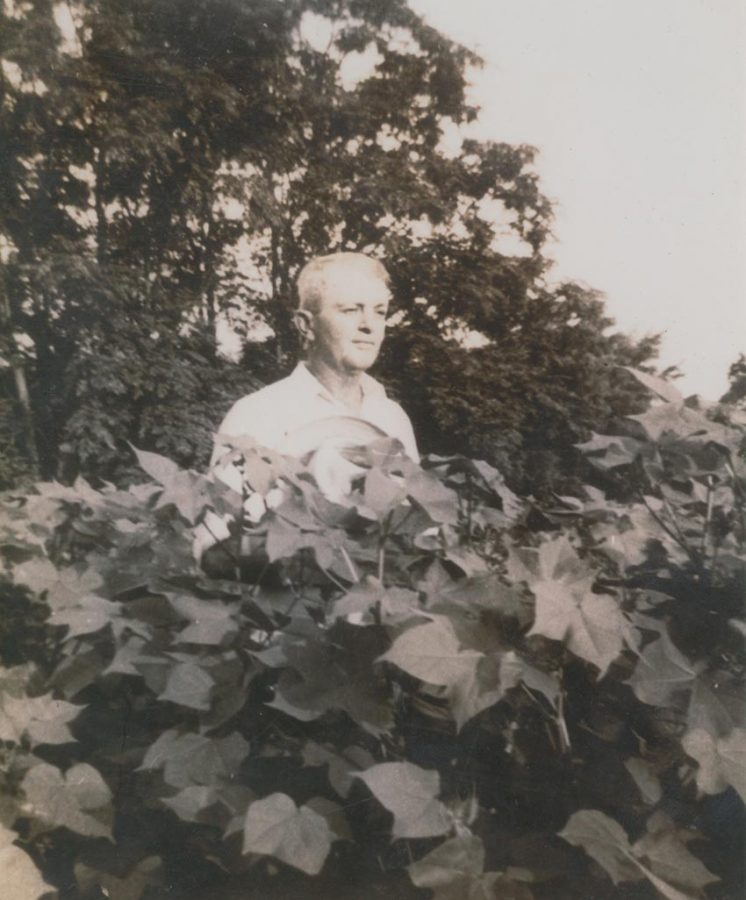 A shopkeeper's dream realized
For Bill, owning a general store was about more than sales and stocking shelves. It was about the ideas and dreams of the people who chose to live their lives in the tiny town he loved so much. Serving them was his life's work and he has inspired us to continue in his memory.
In honor of our namesake, and those who followed him, Rasberry Greene will soon be born. We will reveal our dream soon enough, but for now, know that, like Bill, we hope to honor the hopes, dreams and stories of all who will one day walk through our doors.
Sincerely,
The folks at Rasberry Greene